Tech For Good Stories
A video series showcasing the work of Zendesk's Tech for Good partners, a program that offers free software and support to nonprofits that address urgent social problems.

Role: Creative Lead
In-House: Zendesk

Awards: Honoree for CSR Campaign at Webby Awards; Shortlist for Social Impact at The One Show Awards






Each film focuses on the work of a different nonprofit, exploring different aspects of their work, their day-to-day impact, and background on the different social problems they tackle.
The series features a rotoscope, paint-over-footage style across all of the films – creating a coherent visual aesthetic for the series, while also allowing each film to have it's own unique look within the animation style.
The series features the stories of IRC and their Signpost project which promotes access to information for refugees; Ameelio who provide a service for the families of incarcerated individuals to communicate with their loved ones; GiveDirectly who give cash directly to people most in need; and KindWork who provide training and career support for underrepressented communities in the tech industry.
While the videos focus heavily on the stories of the nonprofits, with only a light touch reference to Zendesk, a microsite gives a deeper look into each implementation of our products.
The site hero features an interaction giving visitors a window into one of the stories, with hover states playing rolling in the background of the page. The rest of the page gives each of the four stories their own time in the limelight – with the option to click through to solo video pages.
The website is also available in a high contrast version – with improved accessibility and reduced video effects for those on a slower connection.

Visitors can toggle between the two versions at any time by clicking the sticky colourwheel in the bottom-right corner of the browser.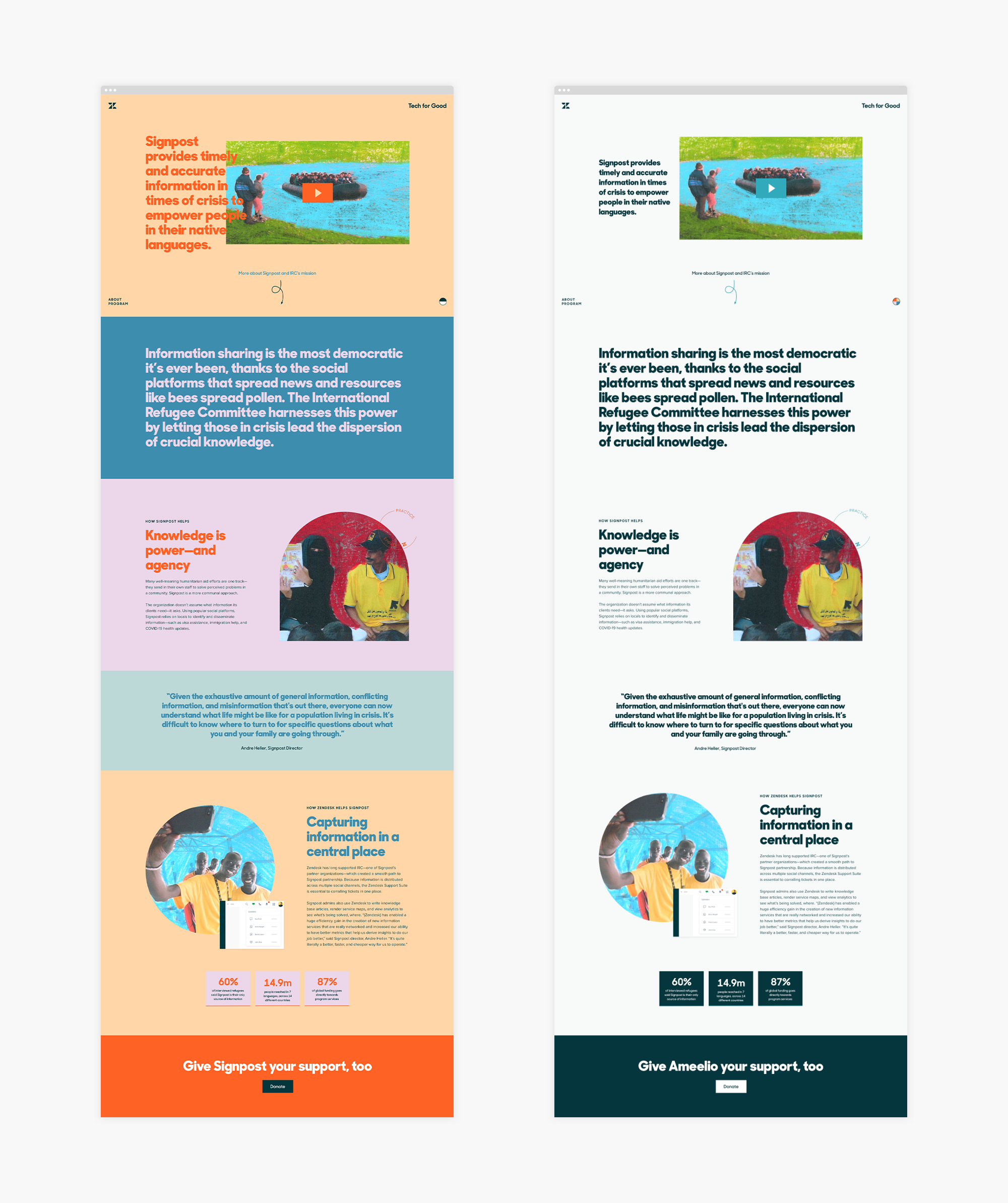 VP Creative: Erin Pinkley
Creative Leads: Sam Bathe, Olivia Kingsley, Elyse Kanagaratnam
Brand Producer: Ariana Blair
Films Directed by: Amar Chebib
Films Produced by: Malcolm Pullinger & Rachel Barth